Paint by numbers: meet our customers
What a better way to talk about paint by numbers than to interview one of our customers, Robert Lafferty! As you surely know if you are already a Figured'Art client, we like to stay in touch with you to answer all your questions and constantly improve our paint by numbers kits.
Robert has been a loyal customer since 2020. We like to talk regularly as he gives us his feedback on our paint by numbers kits.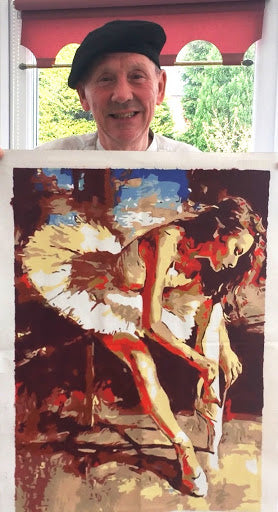 Robert has completed more than 50 paint by numbers, his advice and recommendations for getting started with paint by numbers are worth their weight in gold!
Robert Lafferty discovered paint by numbers in 2015 following an accident (broken ankle). Having to stay immobilized, his wife bought him 2 small format paint by numbers to keep him occupied and put him to work. He had never done any crafting hobbies before and found the experience very enjoyable although the choice was quite limited at the time.
Early 2020, when the Covid pandemic forced us all to review our habits and spend a good part of our time at home, Robert decided to focus on a creative manual activity.
AFTER SOME INTERNET RESEARCH, HE DECIDED TO CHOOSE THE REFERENCE BRAND FOR PAINT BY NUMBERS IN THE USA, YOU GUESSED IT: FIGURED'ART 😉
Robert was impressed by the great diversity of designs on our website, clearly there was something for everyone.
"Whether it's paintings of animals, landscapes, flowers, or even famous paintings, Figured'Art has an exceptional choice. Not to mention the sizes and frame options. You can paint canvases from 16"x20" to 35"x47". And a very important point: the quality/price ratio of Figured'Art's paint by numbers kits is excellent.
At the start, I took my time with my new paint kits, but very quickly I became totally addicted to my new hobby and started painting every day.
When I finished my first paint by numbers canvas, I was blown away by the result, I couldn't believe it.
I BECAME ADDICTED TO THIS HOBBY BECAUSE IT IS SO EXCITING: IT ALLOWS YOU TO RELAX WHILE CREATING ART.
In one year, I completed more than 30 paint by numbers from Figured'Art. And I continued as the time went by.
The subjects I choose are very diverse, I take my time when choosing, and it must be said that there is a choice with more than 2000 designs available on figuredart.com.
Once my paint by numbers are finished, I have them framed by a local artisan and they are all hung in my house (which is increasingly resembling an Art museum :D).
I have shared my passion for paint by numbers with many of my acquaintances, family, pharmacist, the local grocery store and their employees to whom I have given some of my creations. They don't know my name but every time the same sentence comes back "Are you the painting Artist?" I get great satisfaction from being able to give some paintings to people, it makes life a little more beautiful.
At first, I started with "Easy" type paint by numbers canvases. An important point on the Figured'Art website is that you can filter their designs by level of difficulty. This is ideal for starting out under good conditions without discouraging yourself. Paint by numbers allows you to learn how to paint easily and you don't have to skip steps. If you have never painted in your life, take an easy canvas to start. After a few paintings, I started to produce detailed works.
I remember once unboxing a Figured'Art kit of a Cleopatra design and the canvas was at a remarkable level of details. I thought it was going to be impossible, but I'm definitely not one to give up! Art comes from the heart, and I let myself be carried away, almost in a trance in its realization, I was clearly elsewhere. When I saw the final result, I said to myself, "that's it, I can really paint any work, I am no longer afraid."
I then created a historical painting on the World War II period. The result was once again stunning. I posted some photos online and I was offered $300 from someone who wanted to buy it, but I refused because this painting has a special meaning to me.
In summary, I find that paint by numbers has all the qualities to please. It is a very relaxing creative hobby that removes stress from daily life. Perfect for improving concentration, I noticed a huge difference. And the excitement it brings when the work is completed is indescribable. Every day when I look at my paintings, I am proud of myself. There are many ways to discover Art and for me it was through paint by numbers.
I can only encourage you to try Figured'Art's paint by number kits and introduce them to your loved ones, you will be surprised by the result. And their customer service team is fantastic and quick in case of questions.
Everyone can try, young or retired. It's not difficult, you don't need painting skills to start, paint by numbers will be your guide. My wife and everyone who sees my works tell me that I have a real talent for an artist, and that makes me proud of what I have painted.
"TRY, YOU WILL BE SATISFIED".
Robert
Hoping that you liked this testimony, you too can become a real artists! Have a look at our website to find your next paint by numbers project!