Paint by Numbers for Adults
Premium Quality Paint by Numbers Kits
Figured'Art specializes in DIY paint by numbers kits for adults, made in our own factory. You can choose from an extensive collection of over 2,500 designs, with canvas sizes ranging from 16"x20" up to 36"x47" if you like large paint by numbers. Try us now, we have over 3,500 verified 5-star Customer reviews!
Our Paint by Numbers New Arrivals
We're dedicated to providing fresh paint by numbers kits. Every month, we update our collections with a mix of animals, flowers, famous paintings, city landscapes, natural scenes, and modern designs, ensuring you'll always have a new and exciting art project.
Our Best-selling Paint by Numbers Kits
Create Your Custom Paint by Numbers
Turn your precious memories into works of art with our Custom Paint by Numbers kits. We can create your very own paint by numbers template from a wedding photo, family portrait, holiday trip, graduation and more! Hang your own creation on your wall or give a personalized gift that touches the heart.
Here are a few examples of custom paint by numbers with free graphic design:
Paint by numbers with your photo: Turn any image into a paint by numbers canvas. What do you give someone who has everything? A personalized work of art! Our custom paint by numbers kits are a fun way to commemorate those special occasions and bring them to life.
Animal portraits: Celebrate ALL members of your family, even your four-legged fur babies. Our customized paint by numbers kits let you have fun painting your dog, cat, horse or any beloved pet.
Landscapes: Do you love decorating your home with relaxing images of the ocean? Maybe you prefer images of cityscapes or ancient ruins. Why not create your own artwork of a special place you've visited or a dream destination?
Famous paintings: You may have never taken a single art class, but that doesn't mean you can't create a masterpiece - or at least recreate one! We offer kits that allow you to reproduce iconic paintings like Starry Night by Van Gogh, the Mona Lisa by Leonardo da Vinci, or The Kiss from Klimt and many others. 
How to Paint by Numbers (Video Tutorial)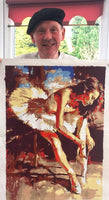 Robert, our lovely artist
⭐⭐⭐⭐⭐ The choices and quality of paintings are excellent. I have been ordering on a regular basis and it has kept my mind active since the lockdown last March. I find it very relaxing and rewarding. After sales service brilliant, very professional and efficient, quickly responding to my queries.
⭐⭐⭐⭐⭐ Very beautiful, I had a great time painting it and the colors are absolutely fabulous. Perfect to relax your mind!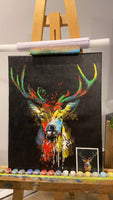 ⭐⭐⭐⭐⭐ My paint by numbers Figured'Art turned out to be exactly the same as the image. I am extremely satisfied with the quality of the canvas and the paint, very beautiful painting I highly recommend anyone to try!
Agata and her custom painting
⭐⭐⭐⭐⭐ I uploaded my picture, they produced a custom kit for me and the result is simply amazing! I had a lot of fun painting it! Try it you won't be disappointed 😊😊😊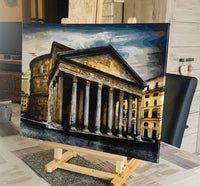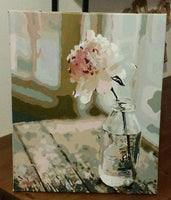 A Flower Lover and her Fourth Painting
⭐⭐⭐⭐⭐ My Fourth painting with Figured'Art and still very happy with the result! As I get more and more experienced in paint by numbers I made some small changes from the original picture. I just love it!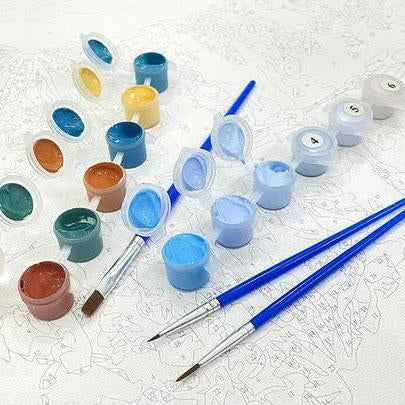 Find a quiet place to work and one where small children or pets won't disturb your artistic efforts. Place your canvas on a flat surface and organize your paint pots.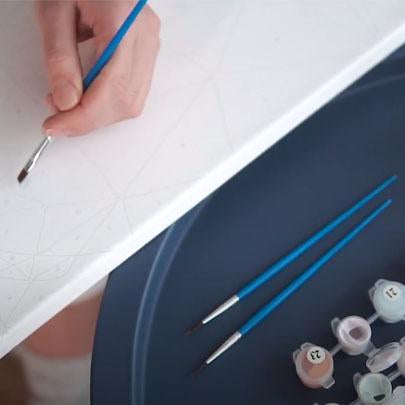 Paint the numbered areas on the canvas by matching with the numbers of your individual paint pots.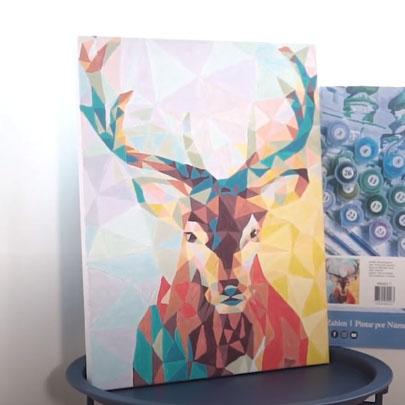 Take a step back, admire your work and share it!  You are an artist!
Paint by Numbers Benefits
You already know that adult paint by numbers is a fun activity, but did you know it also offers some other amazing benefits?
Release Stress
Let's face it, life can be pretty stressful. And spending free time in front of our TV, smartphone or other digital device doesn't really help to quiet our minds and bring us inner peace. Creative endeavors like painting have been shown to calm stress and anxiety. It's easy to get lost in the painting and stay in the present moment. And with painting by numbers for adults, you don't need any prior art experience to enjoy these stress-busting effects.
Improve Concentration and Focus
If you're like most people, you spend a majority of your time multitasking. Life wasn't always like this. We didn't always have nine tabs open on our computer with our social media accounts beeping at us every few seconds. Most of us now find it hard to stay focused on anything for more than a minute or two. Paint by numbers helps to recalibrate the mind. You will find yourself completely immersed in the creative process, able to stay present and focused for longer periods of time.
Create Thoughtful Gifts
The best gifts are the ones that touch someone's heart. We offer customized adult paint by numbers kits that allow you to upload a photo of a wedding, graduation, or any special occasion to create a unique painting template. Imagine the look on your loved one's face when you present them with such a thoughtful gift!
Become a Better Painter
Inside most of us is an artist waiting to get out. But learning to paint can be a bit intimidating. And taking painting classes can be expensive! Paint by numbers for adults is a fun and easy way to learn the basics of painting in the comfort of your own home. Painting by numbers for adults is perfect for beginners interested in acrylic painting. You will learn about color theory, composition, brushwork and paint like an artist! And it's suitable for people of all ages from 9 to 99!
Tap Into Your Creativity!
All human beings have a need for self-expression, and painting is one of the best ways to tap into your creativity and share it with others. We offer over 2,500 designs so you can choose the scene or subject that resonates with you. Or create your own with our custom kits!
Social Bonds
Paint alone or with others! Many customers have told us they like to have painting parties with friends and family. Creating art is a great way to also create lasting bonds.
Sense of Accomplishment
Whenever we complete a task or project it gives us a great sense of accomplishment. When you have finished your masterpiece and display it in your home or office, you will relive that sense of accomplishment over and over again.
Frequently Asked Questions
Q: Do I need painting experience to do Paint by Numbers?
A: Not at all! The canvas is designed in a way to guide you to paint in specific areas using specific colors. There's no need to feel intimidated. You can also select easy, intermediate or advanced paint by numbers kits depending on your preference.
Q: What comes in an adult Paint by Numbers kit?
A: We provide everything you will need to create a finished work of art:
- Numbered linen canvas
- 3 Different sized brushes in nylon
- Numbered pots of acrylic paint
- A miniature photo of the artwork to guide you during the process
- 2 screws + 2 hooks for walls
Note: You can also order additional paint pots for each design.
Q: Is Paint by Numbers suitable for children?
A: Absolutely! We offer paint by numbers kits for kids with over 200 artworks to choose from. You can also choose the difficulty level to match the right kit with the child's age and experience.
Q: How hard is Paint by Numbers?
A: That really depends on which design you choose. Generally speaking, designs with a lot of small details will take more time to complete. But the great thing about paint by numbers is it makes painting masterpieces pretty darn easy. Simply match the colors to the numbered areas and in no time you'll have a beautiful artwork to show off!
Q: Do you need an easel for adult paint by numbers?
A: No. In fact, many of our customers prefer to paint with their canvas placed on a flat surface, such as a table or kitchen counter. If you're someone who prefers to work on a painting upright, we offer wooden easels for those painting kits that are already framed.
Q: Do you provide a reference sheet?
A: Yes. All of our kits come with a reference sheet, which is a paper copy of the canvas for your convenience.
Q: What payment methods do you support?
A: We accept credit card payments, debit cards, and PayPal payments. Our website has an SSL encryption system to protect your personal data and the means of payment used. We use the secure payment system Stripe.
Q: How many days does shipping take?
A: Our kits displayed with the green label "USA Stock: Delivery in 48hrs" are stocked locally in our California warehouse and typically delivered within 48 hours across the USA. For custom-made items and large format products made-to-order in our own factory, the delivery time generally extends from 1 to 3 weeks.
Q: What frame options do you offer?
A: All of our paint by numbers kits come with multiple framing options. You can select a canvas that is already framed on a wooden frame, or choose a DIY frame that is very easy to assemble. All frames are made of high-quality wood and make it easy to hang your artwork on the wall.
Get Frames for your Paint by Number Masterpiece
You've put the final touches on your painting but it's not done yet! Every masterpiece deserves to be framed and hung on the wall. Our DIY wooden frames come ready for easy assembly. Frames come in sizes 16"x20", 20"x26", and 24"x30". The frames are of high-quality wood, specifically designed to fit the size of the canvas and to enhance the painting and make it easy to hang your painting on the wall.
We also offer canvases already framed for your convenience.
Paint by Number Kits Size Options
Where will you put your work of art? Over the sofa? In the hallway? Above your bed? We offer paint kits that come in a variety of canvas sizes from 16" by 20" all the way up to 36" by 47" so you're sure to find just the right size to display in your home.
ABOUT US
Figured'Art is a group of passionate art and DIY lovers. We aim to offer a wide range of paintings by numbers as well as complete diamond painting kits allowing the learning and improvement of our customers' technique on canvas. Our goal is to give everyone an opportunity to become an artist at their own speed.
We're not just art dealers, we maintain close relationships with all our international suppliers, independent artists and workshops. We follow up on the quality, maintenance and deadlines without impacting the price we offer.
We believe that Art and creative hobbies must remain accessible to all. Our constant research allows us to offer the latest art works and new ideas, while operating with small artists and independent workshops.
We love to have our customers excited on their new art projects! We offer customized paint by number kits based on your own photos so you can enjoy painting your playful dog in the park, or a family portrait. Completely up to you, just send us your photo, we'll take care of the rest.
At Figured'Art, we continue to give great importance to keep improving our products and new ideas. That's why we also offer the opportunity to obtain a high quality canvas based on the portrait or landscape photo of your choice, created by our experienced artists. Send us what you want us to paint!
WELCOME TO FIGURED'ART!
Share your masterpiece
Follow us on Instagram @figured.art