Diamond Painting: Large Kits Available
Diamond Painting New Arrivals
Our Best-selling Large Diamond Painting Kits
Discover your inner artist with one of our diamond painting kits! Figured'Art's unique collection will help you unleash your creativity and imagination. We offer a selection of size options from 8"x10" all the way up to extra large diamond painting kits 32"x40". Choose from a variety of categories such as animals, landscapes, flowers, romance, cities, and more! 
Create your Custom Diamond Painting Kit
What's more fun than working on one of our large diamond painting kits? Working on one that has been custom made just for you! Simply send us a photo or image of your own and our team will create your very own diamond painting kit. Many of our customers create wonderful works of art of their wedding, graduation, vacation and even their pets. Figured'Art's custom diamond painting kits can help you create a unique gift for someone special or to help you commemorate a cherished memory for your own home or office. 
How to Create Your Masterpiece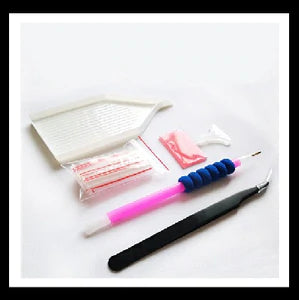 Get your canvas and your accessories ready.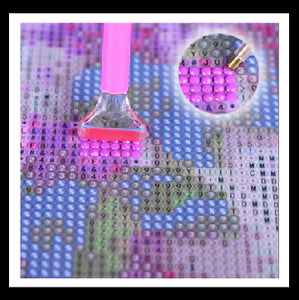 Step 2: Stick the diamonds
Find the symbol and diamond shade number, pour the diamonds into the tray, pick and stick the diamond down onto the symbol on the canvas.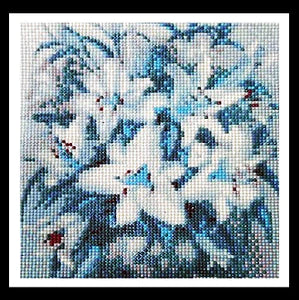 Admire your masterpiece and share it to your friends and family!
Diamond Painting Benefits
Arts and crafts aren't only for kids. It turns out that spending time each week being creative offers many benefits for adults as well:

Relieves Stress
Working on an art project has the same effect as meditating: it stops your mind from ruminating on all of the things that are stressing you out. You're able to just be present in the moment and focus on colors and shapes. It's peaceful and wonderful!

It's Inspiring
Inside each one of us is a creative person just waiting to get out. But many people are "too busy" or tired from working so much. Spending time on a diamond painting will inspire you to be the creative person you know you are.

Save Money
Our kits are very affordable with a Buy 2 Get 1 Free offer, allowing you to create special and unique gifts for loved ones at a fraction of what you might pay to buy a gift at a store.

Get Social
Many of our customers have told us they invite friends and family over for art night. While working on a diamond painting can be meditative when alone, it can also be a great opportunity to socialize in a fun and creative way!

Premium Quality Canvas and Sparkling Diamonds
All of our large diamond painting kits for adults give you the option to choose between square or round diamond shapes. Our kits come with a roll-packed, wrinkle-free numbered premium canvas, along with all the tools needed to create your masterpiece, including colored diamonds, diamond applicator, tweezers, trays, and wax pads.

Unlike other diamond painting kit companies, we give our customers 30% more sparkling diamonds to ensure you have more than enough to finish your large diamond art masterpiece. And all of these items are securely wrapped to arrive organized, unharmed and ready to go!
5D and 3D Drills for Diamond Painting
The main difference between 5D and 3D drills for diamond painting is the number of facets on the surface of the drill. A 5D drill has five facets (or surfaces), while a 3D drill has three facets. Because of the extra facets, 5D drills have a higher level of sparkle and shine, making the finished diamond painting look more realistic and detailed.
Square or Round Diamond Painting
Whether to use square or round drills for diamond painting is largely a matter of personal preference. Both types of drills have their own advantages. Square drills are larger and cover more surface area, which can make it easier to fill in large areas quickly. They are also more precise and can help create sharp lines and edges. However, they can be more challenging to pick up and place accurately with the diamond pen. Round drills are smaller and more versatile, making them easier to pick up and place. They can also help create a softer and more natural look to the finished painting.
Lynda and her Diamond painting
⭐⭐⭐⭐⭐ I absolutely loved it, the result is amazing! I recommend Figured'Art, the quality of their kits is excellent !
Margaret and her Custom Diamond Painting
⭐⭐⭐⭐⭐ I am delighted with my diamond painting! Everything was perfect, I received a beautiful kit and the result is amazing!
Sarah and her first Diamond Painting
⭐⭐⭐⭐⭐ It was my first diamond painting, I purchased a kit from Figured'Art as several friends mentioned this brand to be the best for diamond painting. I can confirm the quality was excellent, I really enjoyed the experience and I recommend anyone to try. It's very relaxing and easy to start.
Emma, our very loyal customer
⭐⭐⭐⭐⭐ I love diamond painting, I am doing it almost everyday and Figured'Art is by far my favorite brand. Their diamonds have the perfect size, the canvas is much better than what you can find on other websites and their packaging is also beautiful. I also love their customer service team, they reply fast and are always willing to help. Thank you again!
⭐⭐⭐⭐⭐ Diamond painting is a great hobby, it's very relaxing and rewarding to see what you can create by yourself.
Helen and her new Diamond painting
⭐⭐⭐⭐⭐ I discovered the Diamond Painting several months ago and I find it very fun! So many designs to choose with many sizes available. Don't be afraid to try, you will love it! I order regularly from Figured'Art, you can trust this site.
START DIAMOND PAINTING NOW